Smiling is Contagious
Studies have found that seeing just one other person smiling activates the area of the brain that controls facial movement, leading to a grin.
News
 Won't you please join us in welcoming Max J. Weber, DDS to the Blacker Family Dental team in Kansas City! Dr. Weber joins our practice in December. He comes to us from the Dental Center at the University Health Lakewood Medical Center. Dr. Weber studied at the UMKC School of Dentistry. He taught and worked alongside Dr. Kyle Blacker at the residency program at Truman Medical Centers in Lakewood, so he is a true friend to the practice! We are so pleased to have him as part of our patient care team!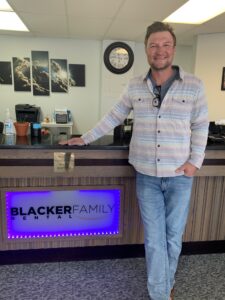 Blacker Family Dental for Your Whole Dental Health
We're here for every aspect of your dental health, from preventative care to teeth whitening, cosmetic dentistry, and emergency dental procedures for your whole family. Our dentists are also KC sleep specialists and help treat sleep disorders with specially fabricated oral sleep appliances!
Be sure to follow Blacker Family Dental via social media to keep up with the latest in dental tips and techniques for you and your family.