The Blacker Family Dental Staff in Kansas City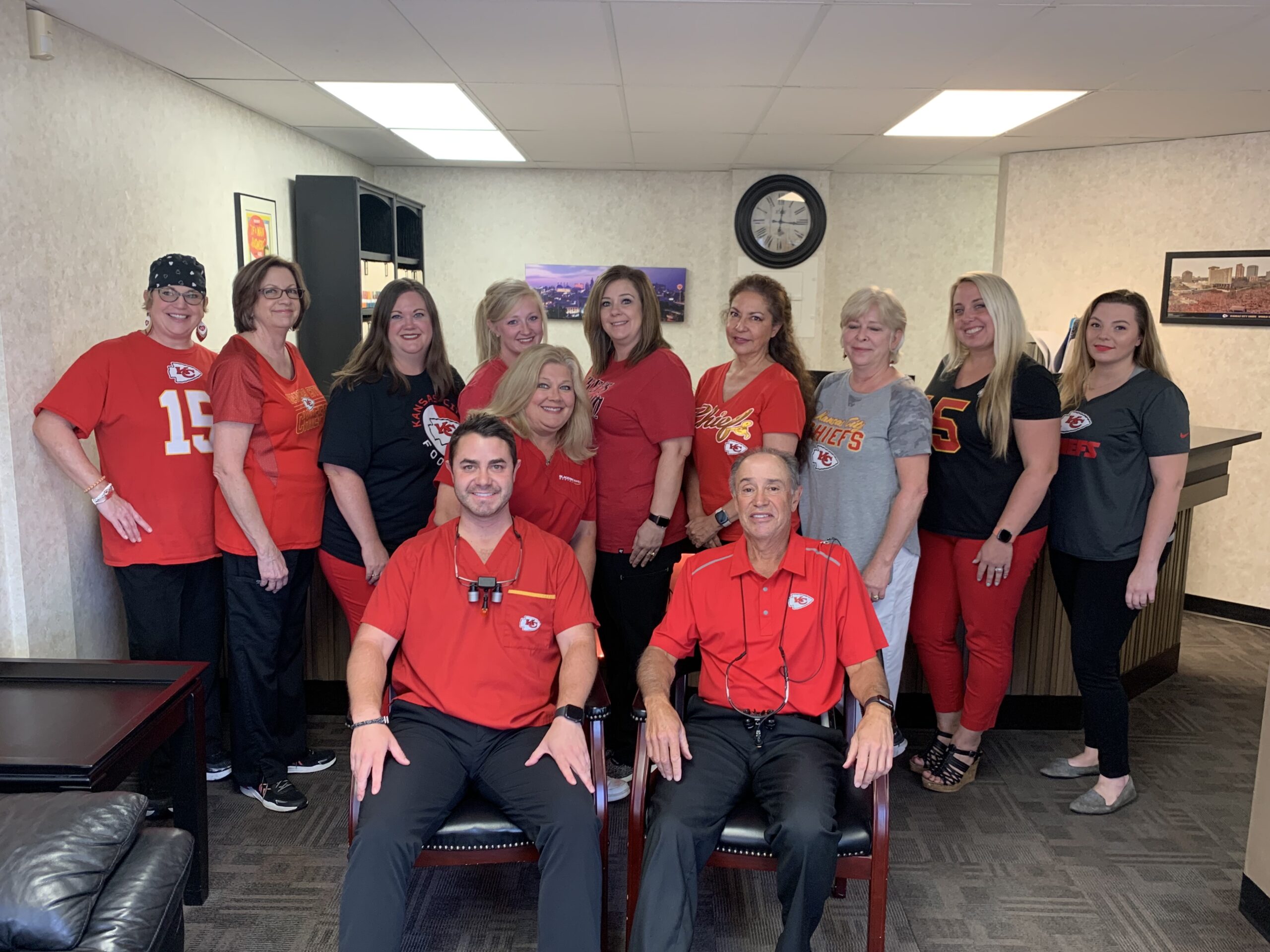 At Blacker Family Dental we put the focus on family. We want our patients to think of us as their KC family dentist. That's why our friendly and courteous staff is always glad to see you! We're happy to answer any questions or just chat about your family or your oral care goals. Our entire team has just one mission: To provide the best dental care possible for each and every patient.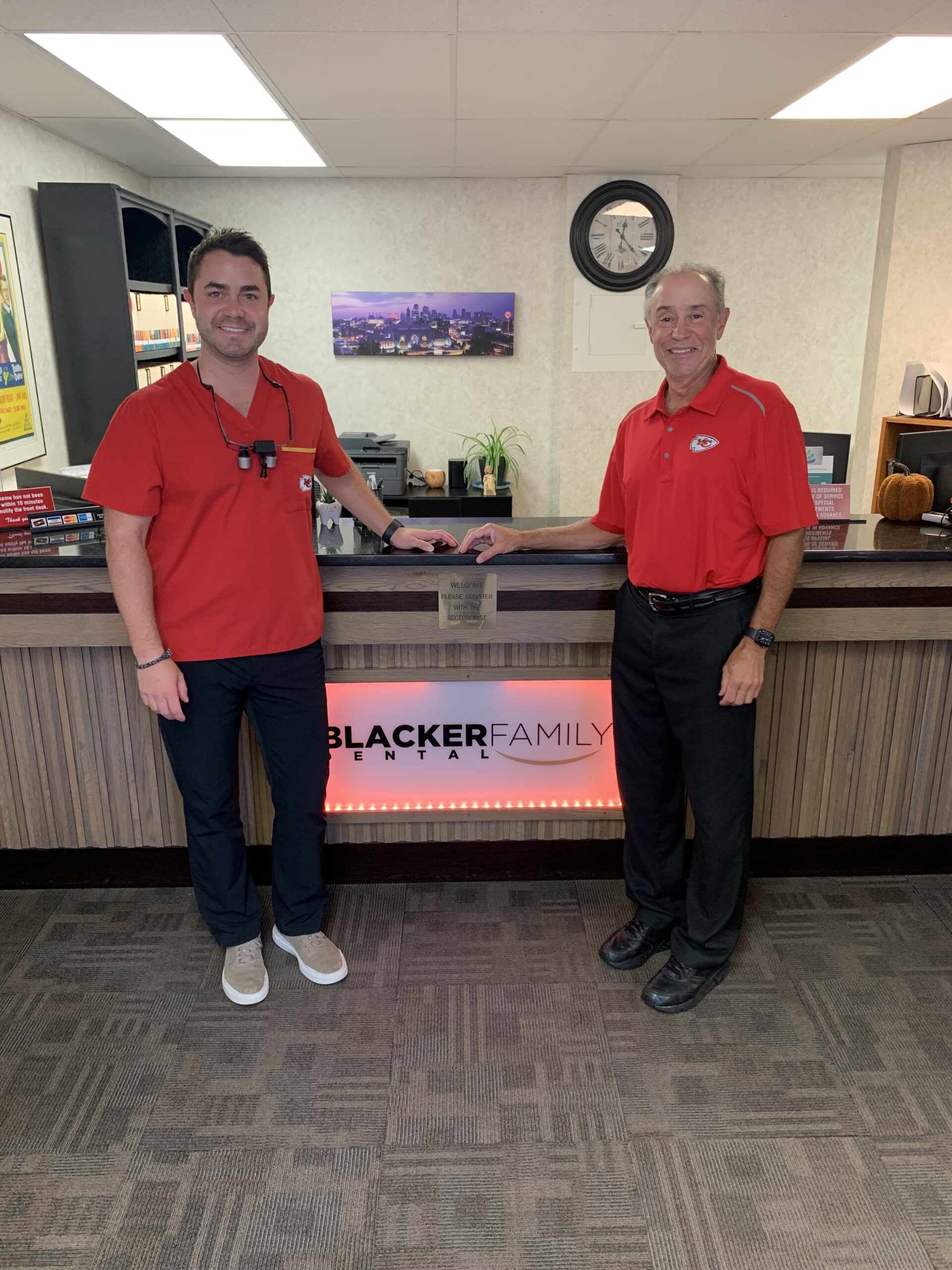 Mitch Blacker, DDS
Dr. Mitch Blacker has been practicing dentistry in South Kansas City for over 30 years. He and his wife Susan raised two children: Kyle and Cassie. His daughter, a teacher, is married to Jeff Smith, an accountant, and they have one daughter. Mitch is an avid golfer and tennis player, and follows the Chiefs, Royals, and Mizzou. Mitch's primary areas of specialization and interest are cosmetic dentistry, restorative dentistry, crowns, bridges, dentures, and implants. He is a proponent of Invisalign clear aligners that straighten teeth without metal braces. As a KC sleep specialist, he is also very interested in sleep disorders, especially those that affect breathing and sleep quality.
He spent time on the faculty at the University of Missouri-Kansas City School of Dentistry as an Associate Professor and served on the Board of Directors for the KC Dental Society for more than six years. He was also on the Board for Boys Hope Girls Hope and provides all their dental work pro bono. He also donates his time to the Bishop Sullivan Center and the VA Medical Center in Kansas City.
Kyle Blacker, DDS
Kyle Blacker was born and raised in Kansas City. He attended Rockhurst High School followed by Saint Louis University where he received a Bachelor's Degree in Biology. He spent one year at New York University Dental School, and finished his Degree of Dental Surgery at the University of Missouri-Kansas City. He is a member of the Xi Psi Phi Dental Fraternity and has been involved in charitable work with Boys Hope Girls Hope of Kansas City. He worked at Truman Medical Center to attain his General Practitioner Residency certificate. His work at TMC provided advanced training in fields such as Endodontics, Implant placement, 3D imaging techniques, and Oral Surgery. He brought these skills with him when he joined Blacker Family Dental in the summer of 2017 to widen the scope of dental care available to patients. He is married to his high school sweetheart, Julie. His inspiration is to build on what his father began thirty years ago, and continue to serve the community in every way that he can.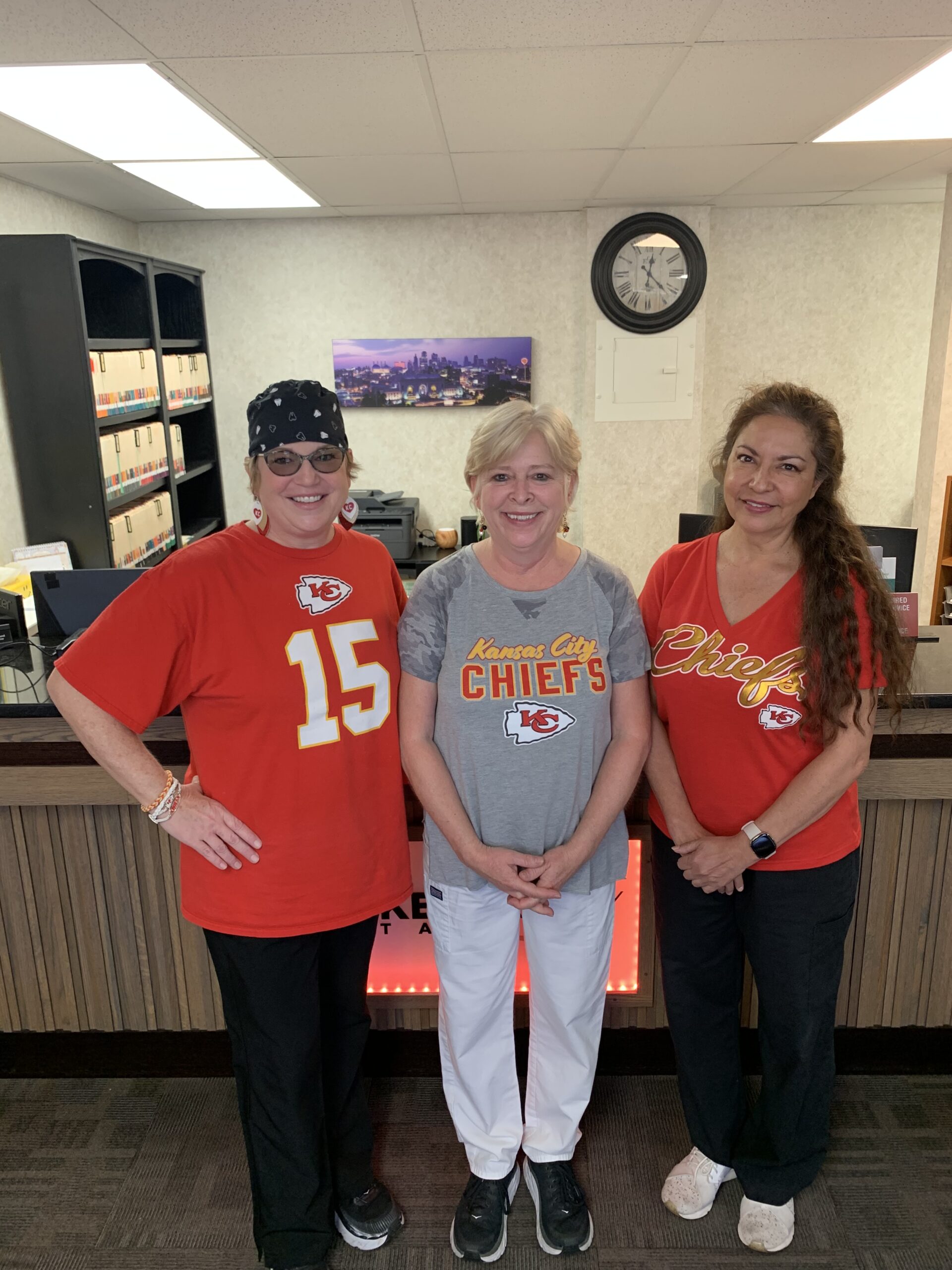 Supporting Doctors Mitch and Kyle Blacker is the best team of dental hygienists and dental assistants in KC. All of them are dedicated to providing the best KC family dental care possible to all of our patients, and are ready to tailor their approach to your specific dental needs and those of your family!
Kara grew up in Grandview, Missouri. She now lives in Raymore, Missouri with her husband, 2 of her 5 children and 1 of her 3 grandchildren. She was a dental assistant for 14 years. In 2002 she graduated from Johnson County Community College Dental Hygiene program. She has been a dental hygienist with Dr. Blacker's office since October 2002. In Kara's off-time she enjoys family, friends, outdoor activities and hanging out with her cats and dogs.
Ramona has worked for Dr. Blacker for 18 years. She graduated from UMKC as a Registered Dental Hygienist. She is married with one child, is a step-parent and a grandmother. In her spare time, Ramona enjoys photography, travel, and spending time at the river.
Trinity grew up in Lincoln, Nebraska and graduated with a Bachelor's degree from the University of Nebraska before moving to Kansas City from Omaha in 1995. In her spare time, Trinity enjoys working on home projects and repairs. She also enjoys reading and spending time with her boyfriend and her adopted cat.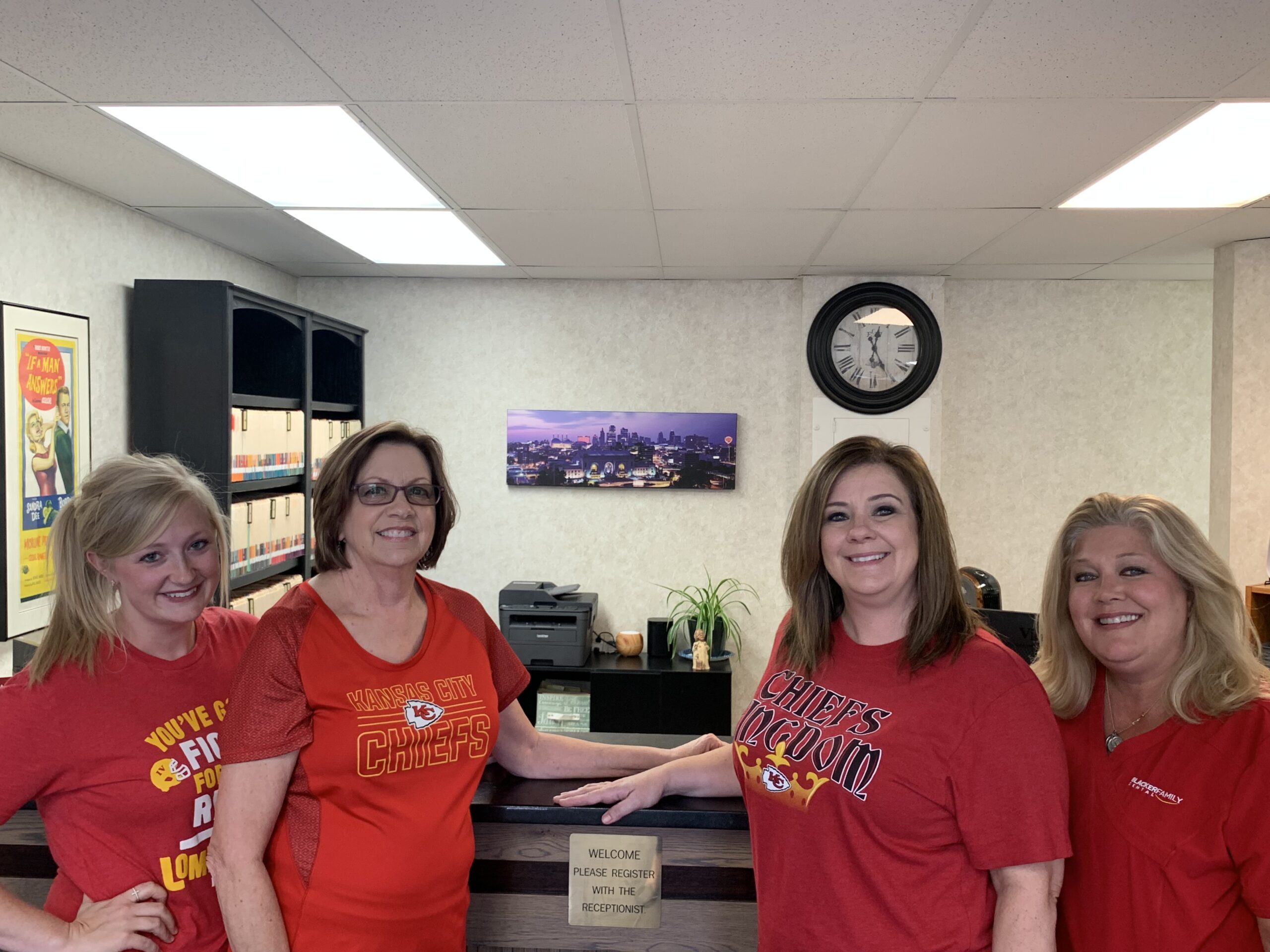 Linda was born and raised in the Kansas City area. She's a graduate of Grandview High School, and has lived in Pleasant Hill for 18 years. Linda has worked for Dr. Blacker for 30 years, and she says that the experience of watching generations of families come to the office for cleanings and treatments has been wonderful.
Jenny was born and raised in Pleasant Hill.  Went to assisting school in Kansas City.  Graduated in 2013.  Earned her expanded functions and nitrous oxide certification in 2014.  Enjoys traveling, rollercoasters, hiking and mountains.
Jan has been working for Dr. Blacker since 1993. She's married, has 4 children, 2 grandchildren, and enjoys fishing, reading, camping, rollercoaster riding, crocheting, and anything having to do with chocolate!
Jamie has been in the dental field for 22 years. She lives in Lee's Summit with her husband Matthew. They have 3 children a son-in-law and 2 granddaughters. In her spare time she enjoys spending time with friends and family. Jamie loves traveling and riding with Matthew on their motorcycle.
Office Management and Patient Coordination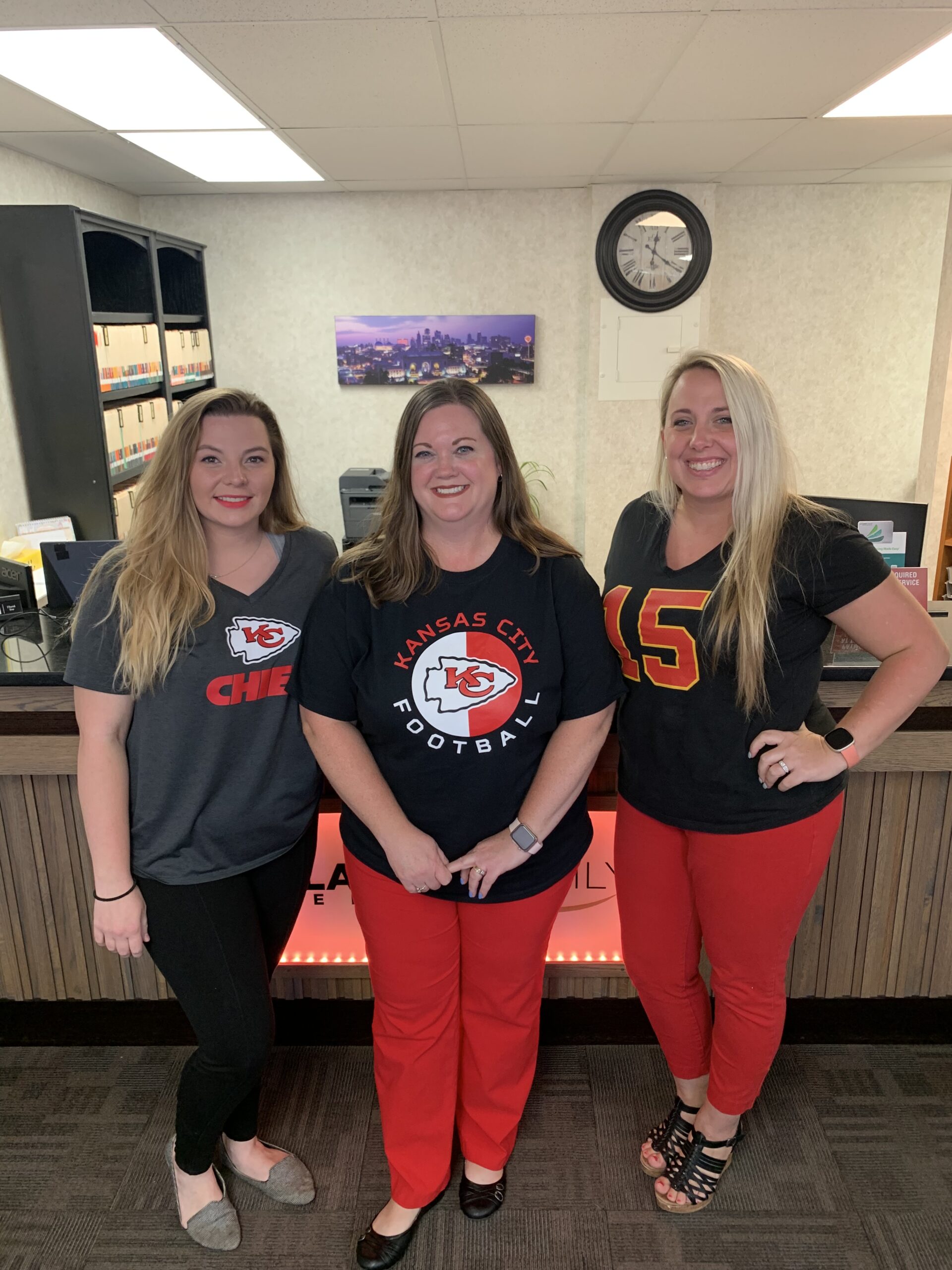 Every time you walk into our office at 11208 Quincy Ave in Kansas City, MO 64137, you'll be met with a smile and a friendly face! That's thanks to our office management and patient coordination staff, who are always happy to see you and glad to help you with any questions or concerns that you may have!
Sonja at the front desk was born and raised in Springfield, Missouri but moved to Kansas City in 2017 with her family. She has been in the dental field for twelve years and was previously an expanded function dental assistant (EFDA). She loves working at the front desk and getting to know all the patients at Blacker Family Dental. Sonja is married with 2 children: a son and daughter. In her free time, she loves to play sports with the kids, and is a car lover. She and her husband spend many weekends during the spring and summer months drag racing around the Midwest region.
Brandi was born and raised in Alabama and moved with her family to Kansas City in 2012. She has been working in the dental field for 3 years. In her free time, she loves to paint, hang out with her children, and travel.
Tonya loves dentistry and has been working in the field since 1996. She's always ready to answer any questions you may have at the front desk with a smile. In her free time, she enjoys gardening, watching basketball, and spending time with her husband Bo and daughter Amelia.