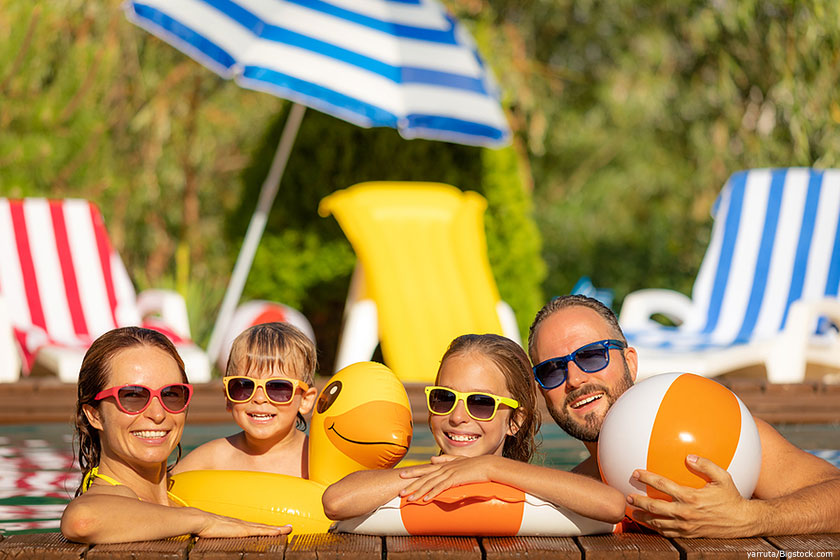 Cool Dental Health Tips for Summer Pool Season
Here in Kansas City, summer weather has officially arrived. For many of us, that means it's pool season. Whether you have an inflatable pool, a backyard pool, or a membership to the local public pool, an afternoon swim is the best way to stay cool during the summer heat, catch some rays, and get a little exercise. What you may not realize, however, is that you should keep some dental health concerns in mind before you take a dip this summer. Fortunately, your Kansas City family dentist has laid them out for you. Read on before you grab those flip flops and beach towel and head out the door.
Protect Your Lips from the Sun! Hopefully, you're already wearing plenty of sunscreen when you head to the pool and re-applying it regularly after you swim! It's important to help protect your skin from harmful UV rays. However, your lips are actually even more susceptible to damage from the sun than the rest of your body, so be sure you also reach for some lip balm with SPF 15 or higher whenever you apply your sunscreen. Make sure the kiddos have some, too!
Mind the Pool Safety Precautions! They're there for your protection! Fortunately, following the rules can help protect you and your kids from a wide array of possible injuries. Slipping and falling on the concrete ledge of the pool, catching the diving board on the way down, or diving into water that is too shallow can lead to broken bones or worse. These types of accidents are also a recipe for dental injuries, including chipped or cracked teeth, split lips, or even teeth that are knocked out altogether. Familiarize your kids with the rules and help make sure they follow them. And while you're at it, consider a mouthguard for outdoor activities, including swimming!
Pack Your Own Snacks! Most public pools have concession stands that sell all kinds of candies and other treats. Unfortunately, those sugary snacks are bad for your teeth, and they're not great for the rest of you, either. Instead of grabbing an ice cream sandwich, pack up healthier alternatives for the whole family, like apple slices, veggies with hummus dip, sandwiches, or other healthy options.
Stay Hydrated! Sure, you're splashing around in the water, but swimming can still leave you mighty thirsty! Give a pass to sugary sodas and energy drinks, though. The best way to stay hydrated is to drink plenty of water. It's as simple as that! Even if you do have a soda or other sugary drink at the pool, try to spare your teeth as much as possible by drinking it through a straw. That'll reduce the amount of contact between the soda and your teeth, where acids can damage tooth enamel.
Don't Lose Your Retainer! This is a favorite tip from our orthodontist friends. It's all too easy to lose your retainer when you're swimming, especially since it can easily come out in the water. Before you hit the pool, take it out, put it in its case, and keep it somewhere safe, such as your bag or locker, so that you know where it is when you're done.
For more summer dental tips or to schedule an appointment to see a family dentist in Kansas City, call Blacker Family Dental at (816) 763-8400 or click here.