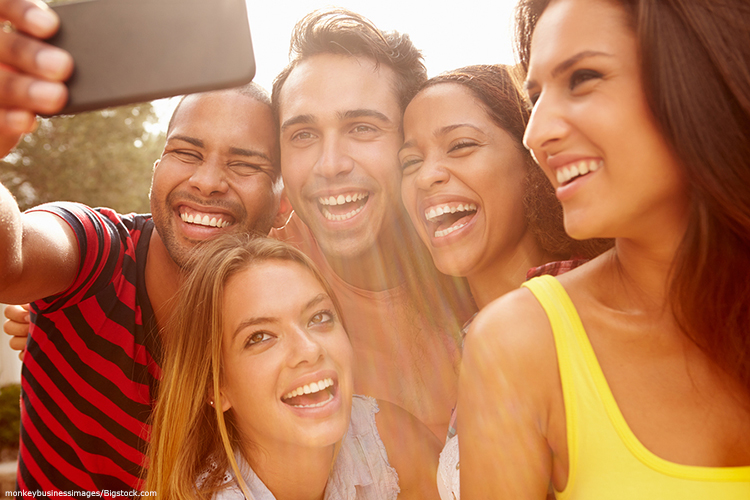 The Selfie Generation and Healthy Smiles!
Did you know that these days around 68% of adults in the United States are walking around with smartphones in their pockets? And since the iPhone 4 came out in 2010, just about all of those smartphones now have both front- and rear-facing cameras. What that means is that there are more photos being snapped of events and places and outings—and ourselves!—than ever before.
In June of 2016, Google reported that around 24 billion selfies had been uploaded in the previous year. That's a lot of pictures of smiling people! Nearly 50% of those selfies are uploaded directly to Facebook, while other apps and programs like Instagram, Twitter, and WhatsApp make up most of the rest. And while people in the so-called "selfie generation"—those between the ages of 18 and 34—may be the most prolific snappers, people of all ages enjoy commemorating their lives and their favorite events by sharing photos online.
Some selfies have even managed to "go viral" and become an online sensation. A few of the most famous selfies of recent years include the Oscars Selfie taken by Ellen DeGeneres along with a cast of A-list celebrities, the Endorsement Selfie that Kim Kardashian took with then-Democratic presidential candidate Hillary Clinton, and the Space Selfie taken by International Space Station astronaut Aki Hoshide during a spacewalk. (Not a position most of us are ever likely to be in.)
One thing that most of these selfies have in common is that the people in them are usually smiling. That's because people love to take pictures of themselves and their friends doing what makes them happy. Plus, smiling is contagious! It helps to lower stress, releases endorphins, and makes a great impression. It also means that the "selfie generation" may be more aware of the importance of a healthy smile than any previous generation. That means lots of healthy smiles, lots of happy people, and lots of awesome photos.
Of course, keeping that bright, healthy smile looking great takes more than just smiling for the camera. It takes regular preventive dental care, and trips to see your Kansas City family dentist! For some people, getting the happy, healthy smile they want also means teeth whitening services. Whatever your healthy smile requires, there's no better way to treat it right than with Kansas City family dental care.
At Blacker Family Dental in Kansas City, we love to see our patients smile, and we love to see their smiling photos on Facebook and Twitter. If you want to make sure that your next selfie features your brightest, healthiest smile yet, call Blacker Family Dental at (816) 763-8400 or click here to schedule an appointment, and we'll do our best to make sure that you leave smiling!